Pregnant and taking Sertraline
I'm 17 weeks pregnant and still taking the SSRI antidepressant Sertraline. I thought I was pretty firm in that decision. An attempt to stop taking it last year ended badly.  But we had to try, if only to help us work out where we sat in the endless risk/benefit balancing act.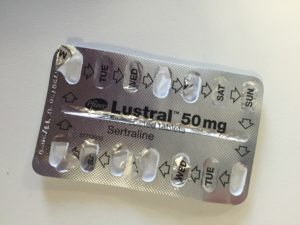 But I was still thrown when my GP (a new doctor who didn't support me through withdrawal, relapse and re-prescription) told me I should try to come off – "You could just stop immediately on that amount – or you could take it every other day for a couple of weeks and then stop".
She seemed convinced the main reason I found it hard to come off them last time was because I was anxious about trying to conceive. In the time we had it was hard to explain that it was considerably more complicated than that.
Mental health agendas vs. pregnancy agendas
When you are pregnant and also manage mental health problems you have lots of people telling you what to do. Different authorities often have slightly different agendas, follow different recommendations and suggest different things. It feels like an extra layer of disempowerment and it's hard not to get caught between what's best for your mental health and what's recommended in pregnancy.
I have:
personal experience that strongly supports staying on antidepressants
a well considered and discussed (with a doctor and my husband) decision to start taking them again
an awareness of the power imbalance implicit in a doctor's consulting room
access to – and knowledge of – a lot of relevant research that emphasises the importance of maternal mental health and the danger for both mother and developing baby of coming off when it isn't appropriate
an awareness that the 'risk' referred to here is pretty small and that everything has risks and benefits – I shouldn't take the fact that something has a risk associated with it as an automatic reason not to do it
an awareness that doctors are told to advise women to stop as there is very little safety info but this is a precaution and for some women, it can be better for them and their baby to remain on medication
Questioning my decision
But despite ALL this, I still walked away from the doctor feeling pretty wobbly and thinking "maybe I should, the doctor is telling me I should after all".
It took another discussion with Alex and some more reading and research to help me feel confident in my decision again.
Continue reading →