What does moderating real time support chat online for 10 – 25 young community members involve?

Support chat
Every other Sunday I moderate support chat on TheSite.org. TheSite runs a number of types of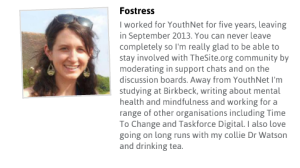 chat – I've also been an expert for their recent Mindfulness chat. I used to do moderation as part of my role as Advice and Training Manager at YouthNet – but since leaving I have continued in a volunteer capacity.
Support chat is the most common type of chat. For two hours, four evenings a week, the chat room is open for anyone to sign into. Usually it's community members who come along (young people who are regular chat and discussion forum users) but sometimes it's a gateway for new people to discover TheSite's support service. Chatting in real time helps to strengthen the community who gather around the discussion forums. And sometimes regular forum users come into chat under a different name to discuss a more confidential issue.
Support chat is a group peer support space. It allows young people to chat in real time about their difficulties, get peer support from others and give people the benefit of their own experiences and suggestions. Sometimes it is a space for chat and distraction.
It's a non judgmental and safe space. It is the role of the moderator to keep it that way – even when it gets very busy. Sometimes the chat transcripts can run to 80-100 pages when downloaded into Word. That's a lot of support for an evening. In general there is a strong focus on managing mental health and wellbeing, although lots of other topics come up too. These can include friendships, relationships, self harm, accessing health services, school and college, online dating, bereavement, music and X Factor (to name a few!).
A moderator's role
As a moderator I will be ensuring that everybody in the chat gets support and noone is ignored. This can involve offering suggestions and signposts or encouraging others to offer peer support. I am not there as a counsellor and would never diagnose or tell someone what they should do. Instead I am there to facilitate peer support, to give young people the space to talk and help them decide what courses of action are right for them. Continue reading →