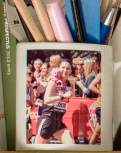 Earlier this week, when the 'exercise no help for depression' stories were published on the BBC and the Guardian, I quickly pulled together some of my initial thoughts and frustrations with the way the research was reported. Since then, I've had a chance to think about it in a bit more depth.
The debate on exercise and depression
I watched the debate and discussion throughout the day. Those involved came from a range of perspectives and angles. Many people who got involved had experienced depression themselves. Some were in the middle of a bad episode, others had experienced it in the past or felt that they were 'managing' their depression to prevent relapse.
Some had found exercise improved their mood or helped them manage, others not. For some it depended on the severity of the depression experienced. For some, exercise was not considered 'helpful' unless it formed part of a 'treatment' leading to a cure. For others if it enabled them to manage better on a day-to-day basis this was enough.
What was interesting was that while some were supporting or arguing against the research itself (that one particular form of facilitated 'encouragement' to exercise doesn't help in treatment) many were responding to the simplified message in the headline – that exercise doesn't help depression.  And many responded with the simple answer, 'Well, it helps me get by.' While the Department of Health can conclude that TREAD, in the way it is currently delivered, does not work, the mass of anecdotal evidence that this study has generated should give them pause for thought. Continue reading →