Happy World Mental Health Day everyone!
Looking after your mental health
If you don't have a diagnosed mental health issue then you'd be forgiven for thinking that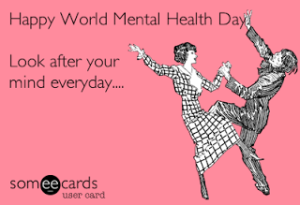 World Mental Health day isn't for you.
But we all have mental health in the same way we all have physical health – and that mental health needs to be understood and looked after to help us stay happier. And the better we do that, the more resilient we become. This means that when things do get difficult we're more able to cope with them.
It's pretty similar to physical health really – if we don't look after ourselves we're more vulnerable to colds, flu etc. And when we do get ill our overall health will help determine the speed of our recovery. Continue reading →