The Miscarriage Association has recently published a hub of information and support resources for employees, employers, managers, colleagues and HR staff. After a year spent researching, writing and creating the information, case studies and films, it's fantastic to see them live.
Ironically, I suffered a missed miscarriage during this time. Needless to say the Miscarriage Association were wonderfully supportive and patient.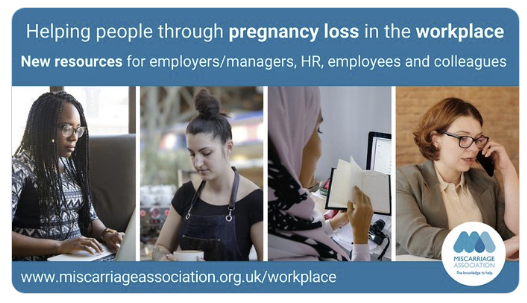 Research with employees and employers
In any workplace, a number of women (and partners) will have experienced a pregnancy loss. My research identified difficulties relating to:
a lack of knowledge of employees' rights – including those related to leave,
managers' lack of knowledge and actual misinformation on the types of loss and the physical and psychological implications,
failures of managers/employers to ask employees what they needed and what would help,
a lack of follow up support or awareness of/sensitivity to ongoing needs,
feeling judged or receiving thoughtless or hurtful comments,
a pressure to return to work before feeling ready or inflexibility with time off and sometimes disciplinary action taken as a result,
a lack of acknowledgement from employers or colleagues,
discrimination relating to promotion or even redundancy after a loss or if it's known that someone is planning to conceive,
anxiety about returning to work and
less support/changes in support offered after experiencing multiple losses (when if anything it's needed more).