1915
In 1915, Margaret Llewelyn Davies edited and published 'Maternity – Letters From Working Women'. This moving collection of letters from members of the Women's Co-operative Guild details their experiences of pregnancy, miscarriage, childbirth, stillbirth, infant death and parenting.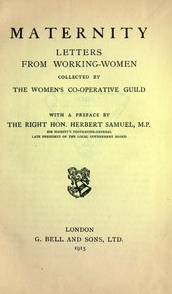 At the end of every letter was listed the family salary and the number of miscarriages, stillbirths and live children they had.
Wages 17s – 25s – 11 children, 2 miscarriages.
Wages 25s. 4 children, 10 miscarriages.
Wages 30s. 5 children, 5 miscarriages.
Wages 16s – 18s. 9 children, 1 stillbirth, 1 miscarriage.
These incredible letters enable us to hear the voices of working women speaking to us across time, describing their experience of motherhood (and often near-constant pregnancy) in a working-class family and without access to free healthcare. Anyone who has ever been pregnant will find something to relate to here.
The letters drew attention to the high level of perinatal loss and the need for better healthcare and financial support for parents. Many mothers had to do heavy and exhausting work throughout their pregnancies and return to work soon afterwards. They and their children's health suffered as a result.
Continue reading