Recovering from eating problems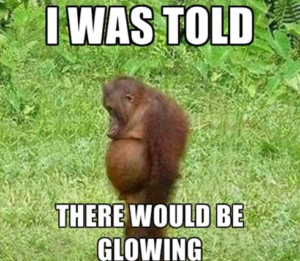 Over the last year, I've been facing up to eating problems that have dogged me my entire life. This became particularly important as we tried (and for a long time failed) to conceive. It was really hard going but I got my cycle back and my hormones balanced – by the time we conceived my levels were fine. I gained weight until my BMI settled in the mid/high normal range that seems to be where my body naturally wants to hang out. I preferred being smaller but I was (slowly) teaching myself to feel positive about the changes.
This is what recovery looks like for me. After 24 years with these thoughts and feelings, I've pretty much accepted that I'm never going to be completely free of them. But I've learned to manage them in a healthier way, enjoy exercise and let myself eat without feeling too guilty (usually).
A naive hope for eating problems and pregnancy
I had nurtured this (naïve) hope that during pregnancy my muddled relationship with weight and eating would somehow vanish. Or at least become a lot easier as I nurtured my amazing baby growing body, forgiving weight gain and enjoying my new curves. HA. Load of bollocks.