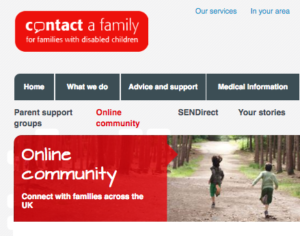 Contact a Family got in touch late last year. They were looking for help setting up their new community, developing guidelines, establishing processes and training new moderators. Over the last few months I have been working closely with them and we're almost ready for launch.
Scoping
I spent some time on scoping work – reading existing research and interviewing stakeholders throughout the organisation. This helped me understand the different requirements for the community and develop a proposed action plan.
Online consultation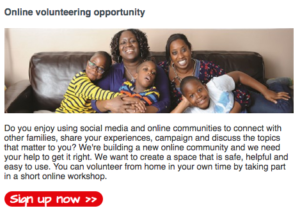 Contact a Family had done some extensive research on their digital offering more generally but I wanted to do some more consultation work with potential community members.
We chose an online consultation as this was felt to be more accessible to parent carers who could sign on at any time on each of the three days of the consultation. It also enabled us to involve parents from all over the country.
Contact a Family had chosen the community platform they would like to use so I was able to set up the consultation on a basic version of the new community. This gave parents a chance to offer feedback on the platform itself and helped to familiarise them with the site.
77 people expressed an interest in the community consultation and development. We had 26 participants in the consultation workshop, giving us 228 comments and answers to our questions. Lots of participants volunteered to stay involved, give feedback on developments and form a 'welcome committee' when the community launched.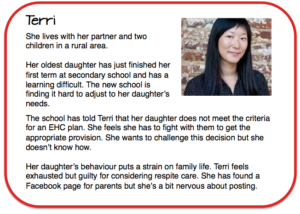 The consultation took place over three days.
On day 1 we asked about what different people want from an online community, their priorities and what would put them off.
On day 2 we asked about moderation and guidelines – how we can keep the community safe without stopping people from having the discussions that help them.
On day 3 we asked participants to have good look round the existing set up and think in more detail about specific groups of users – parents of children with rare conditions, people running or looking for support groups and parent carer forum representatives.
Thank you, I've really enjoyed being part of this new venture and it would be a pleasure to be on the welcoming committee.