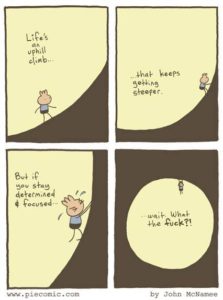 Mental health problems have a way of taking over. I'm lucky enough never to have been hospitalised or signed off work. Life has always stumbled on. But moods and behaviours creep in and twist their tendrils around daily life. They trick you into thinking they're normal, into nourishing them. It's not until they start to suffocate and strangle even the simplest of things that you recognise their power. And then it's too late for an easy fix.
This year I've started the long process of hacking away at the thicket and pulling up roots that go incredibly deep. It hasn't been easy. But now I've made some space it's much easier to see what a tangle I was in.
Eating new food
I recently turned 33 and enjoyed a breakfast made for me by Alex without having to purge it through exercise.The day before my birthday last year I was panicking over choosing something nice (and therefore different) for my birthday breakfast. I cried outside the bread shop. I ended up with toast and even then it was a tricky day.
Letting go of control in the kitchen
I no longer have to have control in the kitchen. I'll eat something made for me by someone else – even if I didn't see whether they used butter or check how much oil they added.
Reaquainting myself with cheese
I had cheese on toast for the first time in two years last week (cheese has been a scary food for years).
Continue reading →