Pressing pause
Every time I go to press 'publish' on a tricky post exploring my mental health I pause for a moment. The way my blog has developed means that my personal struggles and successes sit alongside blogs about my work and details of my skills, training and experience.
Should I keep them separate? Will employers reject me if they read that I took Citalopram for 15 years or that I use exercise to manage my anxiety?
I know stigma and discrimination around mental health in the workplace exists. I spent 2014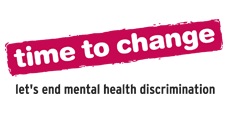 providing evidence based reports on mental health policies and support in a number of organisations across a range of sectors for the Time To Change Organisational Healthcheck programme. Tom Oxley writes a good piece about how the programme worked on pages 10 and 11 of this newsletter.
I spoke to people in every workplace who said that they wouldn't tell their manager if they were experiencing a mental health problem. Many said they would lie about taking time off.
"I'd probably say I had a migraine or something"
Those who had been honest about taking time off for a mental health problem said they felt that now they had more to prove.
Unfortunately in some cases I could understand why. Some managers said they felt people with mental health problems couldn't 'cope'. Others saw investment in employees' mental and physical health as a burden rather than something that makes moral and business sense.
"You've got to be careful or people will just take advantage, start using 'depression' as an excuse."

"We need people on top form to do this job – if you're depressed you just won't be able to cope."
1 in 6 employees are currently dealing with a mental health problem. Like colds, flu, delayed trains, bereavement and accidents it's always going to be part of a workforce. It's how employers deal with it that counts.
My mental health is part of what makes me. It's part of what makes a life – and in many cases it's part of what makes me good at the work I do.
Pressing publish – every time
In the run up to Time To Change's Time To Talk Day on Thursday I thought I'd share some of the reasons why I press publish on those tricky posts every time.