Consultancy for The Katie Piper Foundation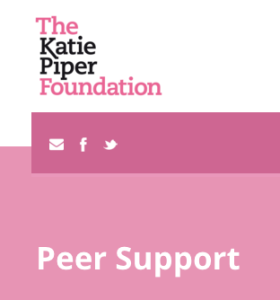 In September I was contacted by Kerry from The Katy Piper Foundation. The Foundation supports people living with burns and scars. Kerry was looking for more information on managing online forums. She was particularly interested in moderation strategies and procedures for managing safeguarding and escalation.
We had an initial chat on the phone where we explored different ways an online peer support community could be moderated and managed.
Almost every community I have been involved with has slightly different definitions  for members and moderators so it felt important to start by clarifying these roles.
Building on existing knowledge

Charities like YouthNet (who were pioneers of online peer support) and Mind (whose Elefriends community grew quickly and organically from a Facebook group) saw their moderation strategy and structure grow and develop with the needs of the community. They were often exploring new ground and didn't always have examples of how a particular approach had worked in the past. You can see this learning in practice in a post about training community members from 2012.

Now online peer support is offered by many charities. It is easier for those looking to establish a new service to understand and clearly define these roles early on. But it's always important to make sure that there is room for consultation, change and development as the needs of the community become clearer. The most successful communities are co-designed and developed with community members wherever possible.