A review of Crazy by Amy Reed – published by Simon and Schuster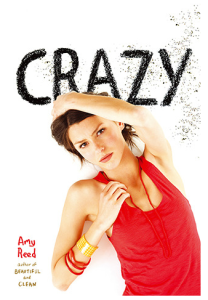 It's hard to truly imagine what depression or bipolar disorder is actually like. The language of mental health is woefully inadequate. The word 'depression' has become part of the spectrum of everyday language used to describe feeling sad. We've all said or heard it. "My team lost, I'm so depressed" or "God, this TV programme is so depressing".  As a result it becomes harder to find the words to adequately distinguish between natural sadness and the entirely different experience of a chemically depressed mind.
Someone without diagnosed depression might fail to understand why those who have can't 'just cheer up'. Those who are ill might judge themselves a failure for feeling unnaturally sad or incapable. A greater linguistic distinction would be helpful.
But even if the words depression, mania, OCD or psychosis were only ever used to describe specific conditions, they still don't explain what it actually feels like.  That's where stories can play an important role.
Reed's 'Crazy' is one of those stories. It explores a mental health crisis through the eyes of those experiencing it. Told in a modern epistolary style through emails and instant messages between two teenagers, it has an immediacy and deeply personal feel that works well with the subject matter.  After meeting at camp, Izzy and Connor start exchanging emails and chatting online. It soon becomes clear that something isn't right. Izzy's highs are too high and her lows are scary and dangerous. Continue reading →