Exploring motivation, reverse motivation and getting motivated when struggling with depression
Mental Health Chat and motivation
Yesterday, just as I was finishing work for the day, I noticed that the #MHChat (Mental Health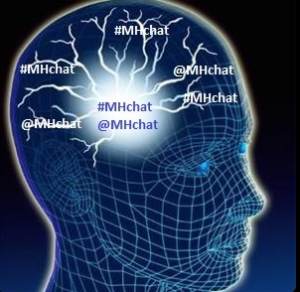 Chat) theme for the week was motivation. #MHChat is a twitter event where @MHChat poses questions on a weekly theme to encourage discussion. The question that caught my eye this week was:

Given that this is  mental health chat, I responded with some thoughts on the reverse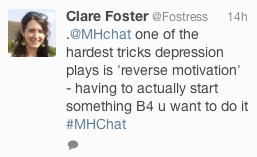 motivation that depression can create.  To give an example; when I am depressed the last thing that I feel like doing is going for a run. I try and get out there and get going – 'going through the motions' – despite this lack of motivation. As I get going I gradually gain a different perspective and start to feel motivated to continue.
A few people in the discussion became interested and asked a couple of great questions back.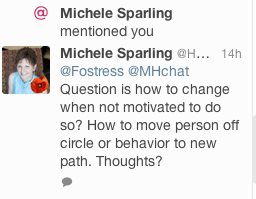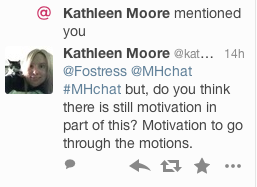 Doesn't 'going through the motions' still require motivation?
I was really interested in Kathleen's question. It really forces us to explore in depth what we mean when we talk about motivation. Continue reading →