How my dog helps me remember to be mindful through acceptance, curiosity, living in the moment and pure joy.
Be more dog?
O2's recently launched  'Be more dog' campaign got me thinking. Their emphasis is on finding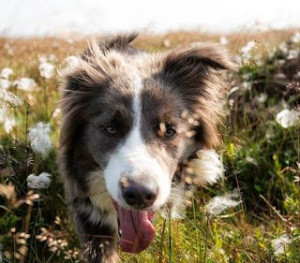 excitement and joie de vivre in a world too bored and their aim is to sell their services. But since getting our collie Dr Watson seven months ago, I've realised that there is a lot that dogs can teach us.
Spending time with Watson reminds me of some of the core teachings of the Mindfulness Based Therapy for Depression course I completed last year.
Acceptance
Dogs are incredibly accepting. Watson takes his experiences as they come. He doesn't make judgements about what is going on in his head or feel that he 'should' be feeling differently. He just feels.
Sometimes he feels rubbish for a bit – like when he naughtily eats old food he finds in the park and then throws up. Or when he gets told off for eating fluff out of his bed. But as soon as he feels better, he embraces it. He doesn't dwell on the time he felt bad and let it seep into his better mood.
We can learn something from this. Humans have a tendency to judge our experiences all the time – often on auto pilot. We usually judge them as not being quite right in some way – thinking that this is not quite what should be happening, or not what we should be feeling. These can then lead into thoughts about blame and what could or should be different – "I shouldn't be feeling like this, I'm always getting things wrong, things are always going to be like this". We get sucked into ruminating and end up in those well worn grooves of negative thoughts. Continue reading →