Appearance is one of the main reasons for suicidal thoughts in the UK
According to Samaritans research, appearance is one of the main reasons for suicidal thoughts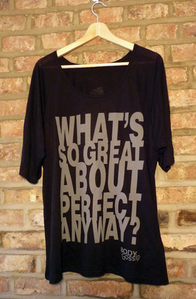 in the UK. APPEARANCE.  This makes me very angry. But I can also completely understand why it is up there in the top three along with 'feelings of failure' and 'academia'.
Food, fat and my thoughts about eating are one of the least clear and most complex aspects of managing my mental wellbeing. After all I have to eat every day. I can't give up eating because it sometimes causes me mental anguish.
I have an athletic figure (that's what I'd always go for when I did online dating anyway!). My body does amazing things for me – most recently a marathon in a time I was incredibly proud of. I'm not fat. To be honest, I never really have been.
My old teenage diaries would tell you otherwise. An angry blog post from Nothingbythebook recently triggered memories of what started my own difficult relationship with food. I was a girl like the one in the blog post. We didn't have a TV and (at a risk of sounding overly romantic) I lived outside in hand me downs. My heroes were the 'pirates' in Swallows and Amazons. I remember a midnight feast I planned with friends in the garden where the more food we managed to acquire, the more gleeful we all became. Not once did I think 'if I eat this, I'll get fat'. And that's how it should be. I haven't felt that completely untainted glee at a pile of food since. Continue reading →