Tips and suggestions for managing depression and anxiety within relationships.
A version of this article was published in the Summer 2013 edition of ONEinFOUR magazine.
Managing mental health when meeting someone new; the early days of uncertainty and strong emotions.
Four years ago I was pretty happy. I felt I was finally managing to keep all life's balls in the air.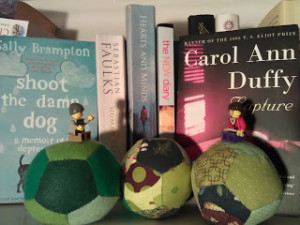 In meeting someone new, another ball was introduced. This ball brought strong emotions with it: uncertainty, interdependence and allowing someone else to influence my feelings. Fitting this ball into the show without dropping the rest proved difficult.
In the early weeks the obsessive, over thinking part of my mind – the part that makes me ill – stirred and breathed its negative fog over everything. It was poked awake by the healthy but strong emotions associated with falling in love. And then it distorted them horribly.
Liking someone brings vulnerability, uncertainty and risk of rejection. Could I keep this experience separate from the part of my mind that worries over things until it's wrung out every negative conclusion? Could I stop myself seeing every uncertain incident as an example of my inability to conduct relationships?
Recognising and distinguishing between the emotions that come with the territory of falling in love and those made worse by my depression helped me to focus on the former and disregard the latter. I'm very glad I did. I wrote a little more about how I worked through some of these emotions in my post 'Writing my mind – writing in the immediacy of the moment'.
Managing depression and anxiety in a committed relationship
That was the early days. And despite the uncertainties being countered by excitement and the rushes of dopamine and norepinephrine, I'm glad they're over. But how do you manage when depression or anxiety are part of a committed relationship? It isn't easy. Depression and anxiety can magnify and distort emotions. You need to be on your guard. When looking through their unnatural or distorting lens you can start to feel that there is a problem with the relationship itself – or with one person within it.
When you have to manage mental health in a relationship you need to ensure that that your safety net is strong and maintained by you both to avoid regularly hitting crisis point. So what can work? Continue reading →