Want to be happier every day? Well who doesn't?
Personally I am interested in exploring ways of helping me manage my wellbeing as I try to cut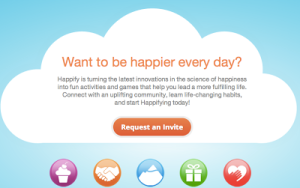 down on the anti depressants I have been on for the last 12 years (a process that seems to have stalled around the 20mg mark). I've also recently been exploring the concept of happiness and what we mean when we talk about it.
Professionally I led on the exploration and implementation of online learning within YouthNet. This means I am interested in how simple online activities can help our young users make the most of the information and expert knowledge we have available and really embed positive skills and actions in their lives. After being sent the link by a blogging friend (thanks Lauren) I decided to sign up to Happify and see what it had to offer. Continue reading →