Blogging about my mental health
A few weeks ago had an internet date. Of sorts. Not a romantic first date (thank goodness) but a face-to-face meeting with someone I met online. Someone like me in lots of ways. Someone who could be a friend.
We knew a lot about each other's vulnerabilities and fears before we set eyes on each other. And that made things much easier. The conversation could get right to the good stuff. We could be open and honest. We chatted about medication, work, diagnoses, panic attacks, weddings and how our dogs help with our mental health. Not really first date fodder.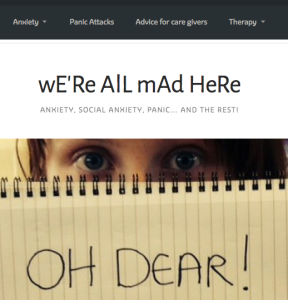 It's all down to our blogs. Claire writes WE'Re AlL mAd HeRe about social anxiety (she's also been asked to write a book about anxiety based on her blog – wow). She got in touch a few months ago and suggested lunch. I'm so glad she did. Meeting inspiring new people is just one of the things that blogging has done for me.
I've had a number of  readers get in touch with me recently about starting a mental health blog – overcoming those demons of uncertainty that whisper 'what's the point, who cares what I have to say?'
I know the feeling – I have it about writing fiction. But I thought I'd share a little about what blogging has done for me – and a few things that helped me get started.
Continue reading →