Radio Lollipop
Last Wednesday evening I was in an old tube train, in a courtyard in Great Ormond Street,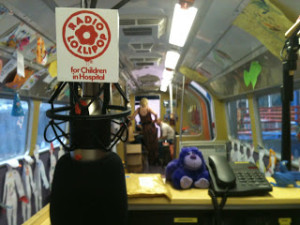 presenting a radio show which played out in rooms all over the hospital. Children could call in and request songs, or sing along – we told jokes and ran a competition to see who could do the best 'yeehaaa' (it was cowboy night). I volunteer with Radio Lollipop on Wednesday evenings – either on the radio, or playing up on the wards. Usually I make it along, unless I'm ill, or work runs late. Even when I'm tired and stressed and feel I would much rather go home and crash on the sofa, I know that if I make it along, I'll feel glad I did later on, and pleased with myself for making the effort.
Finding the motivation to volunteer when you're depressed
But there were times in my past when, despite knowing this, it wasn't so easy to put one foot in front of the other and go where I said I would be. People with depression or anxiety will, of course, recognise the disparity between good times and those when you're depressed in terms of what you can achieve. The difficulty is when it impacts on others. When I was in good mental health I was enthusiastic, excited and confident to try new things. I would sign up for lots of things, volunteering, new opportunities, social events. Then, when a depressive period hit, I could no longer face going – and usually beat myself up about it as a result. For some people, it's not about having good times and bad, but simply negotiating the gap between the idea of doing something and the actuality of gaining the motivation and conquering the anxiety that leaving the house and engaging in something new involves.
Volunteering because of past difficulties with mental health/ wellbeing